7 Years & Still
Growing Strong!!!
SEPTEMBER 24-25, 2011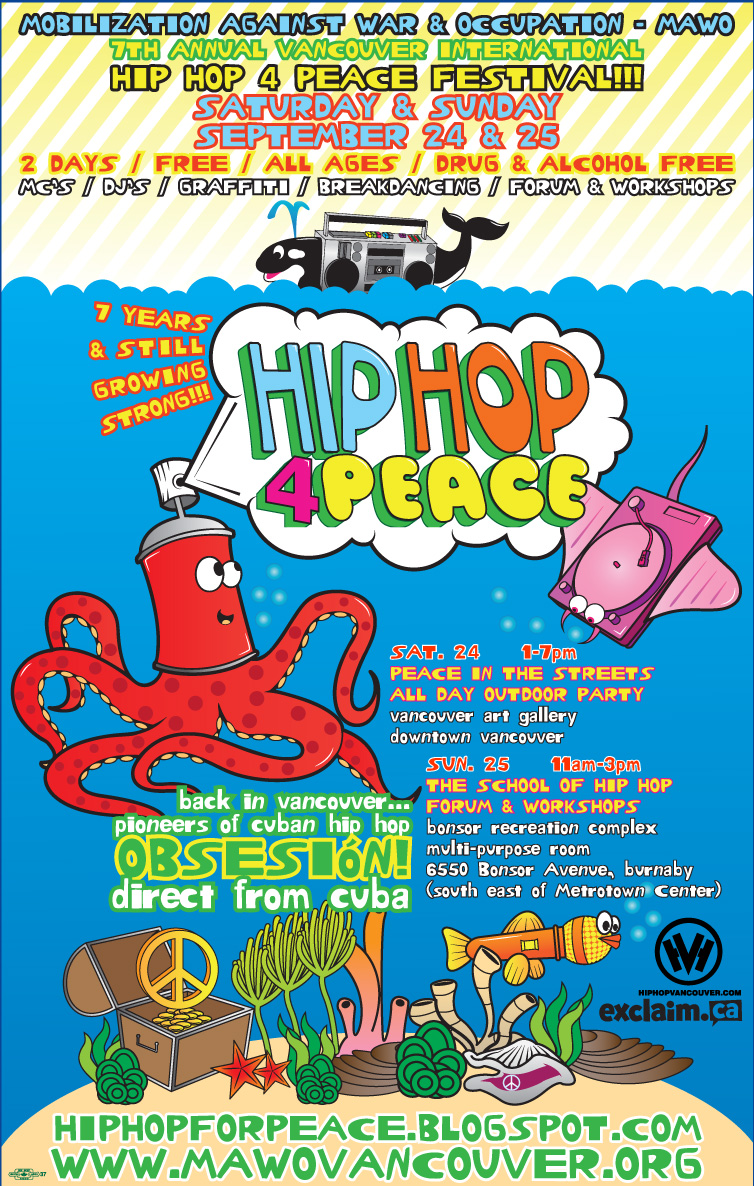 ESPAÑOL AQUÍ!
7th Annual Vancouver
International Hip Hop
4 Peace Festival - 2011
back in vancouver...
pioneers of cuban hip hop
OBSESIÓN!
direct from Cuba
FREE & ALL AGES
ALL EVENTS ARE DRUG & ALCOHOL FREE
Saturday September 24
1-7pm
PEACE IN THE STREETS
ALL DAY OUTDOOR PARTY
Vancouver Art Gallery
Downtown Vancouver, BC
11am-3pm
THE SCHOOL OF HIP HOP
FORUM & WORKSHOPS
Bonsor Recreation Complex
Multi-Purpose Room
6550 Bonsor Avenue
Burnaby, BC
(South East of Metrotown Center)

HIP HOP is stepping up to the international stage and taking it's place in the struggle for a better world! All around our world defined by wars and occupations, this global language is breaking out of war zones and ghettos, refugee camps and reservations. If Peace is the message, then Hip Hop is the voice…
On September 24th and 25th, the 7th Annual Vancouver International Hip Hop 4 Peace Festival will bring together local and international talent, including MC's, Breakdancer's, DJ's and Graffiti writers. This years festival will feature the return of OBSESION! The pioneers of Cuban Hip Hop, direct from Cuba!
On Saturday, let the beats move your body and the lyrics move your mind. At the Sunday workshops learn from the festival artists how to write rhymes and cipher on the breakdance floor, and participate in a discussion about the significance of Hip Hop and its role in the struggle for peace.
Over the last 7 years the Festival has grown into one of the most significant events of its kind. What makes this even more amazing is that it is completely built, organized, sponsored, and supported by communities of youth, families and regular working people from Downtown Vancouver, Canada to Havana, Cuba! This festival has been committed from its very onset to being as accessible, diverse, creative and idealistic as the human imagination can envision.
See you at the festival ~ Peace!
Click here to listen to the Public Service Announcement
for this year's festival!
P 604.322.1764 || F 604.322.1763